INTRODUCCIÓN: Una pareja aficionada al deporte se pone en contacto con nosotros con la firme idea de hacerse una vivienda en una tranquila urbanización a las afueras de Madrid y desde la que poder entrenar para los próximos maratones. El objetivo es hacer una casa práctica, funcional, resistente y cuyo proceso constructivo sea respetuoso con el medio ambiente. Por supuesto también es importante que la vivienda sea energéticamente eficiente y la construcción ágil y limpia.
A sports-loving couple gets in touch with us with the idea of becoming a house in a quiet urbanization outside Madrid and from which they can train for the next mountain trails. The objective is to make a house practical, functional, resistant and whose construction process is respectful with the environment. Of course it is also important that the house is energy efficient and the construction is agile and clean..

TRABAJO TERMINADO FINISHED WORK (FW)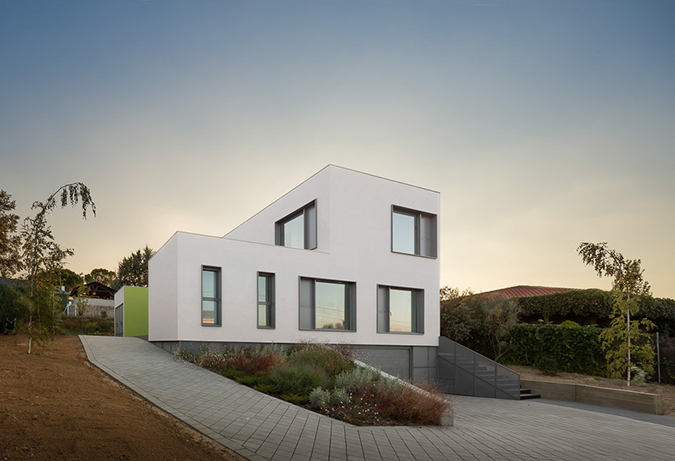 Fue una sorpresa saber que los clientes compartían nuestro interés por la Casa Pasiva, aquélla que por su morfología y acabados es capaz de funcionar con el mínimo aporte energético. Así que la vivienda se desarrolla con el objetivo de minimizar la demanda. Se escoge entonces una estructura semiprefabricada de paneles de madera contralaminada ya cortados en fábrica, que se montan en sólo cuatro días como si fuera una maqueta. La fachada, por su parte, se resuelve con un sistema SATE de 10cm de aislamiento que proporciona un eficiente abrigo a la vivienda con un acabado de mortero acrílico impermeable, estable y duradero.

It was a surprise to know that the customers shared our interest in the Passive House, one that by its morphology and finishes is able to work with the minimum energy supply. So the housing is developed with the aim of minimizing demand. A semi-manufactured structure is then selected from pre-cut wood panels already cut in the factory, which are assembled in just four days as if it were a model. The façade, on the other hand, is built with a SATE system of 10cm of insulation that provides an efficient coat to the dwelling with a waterproof acrylic mortar finish, stable and durable.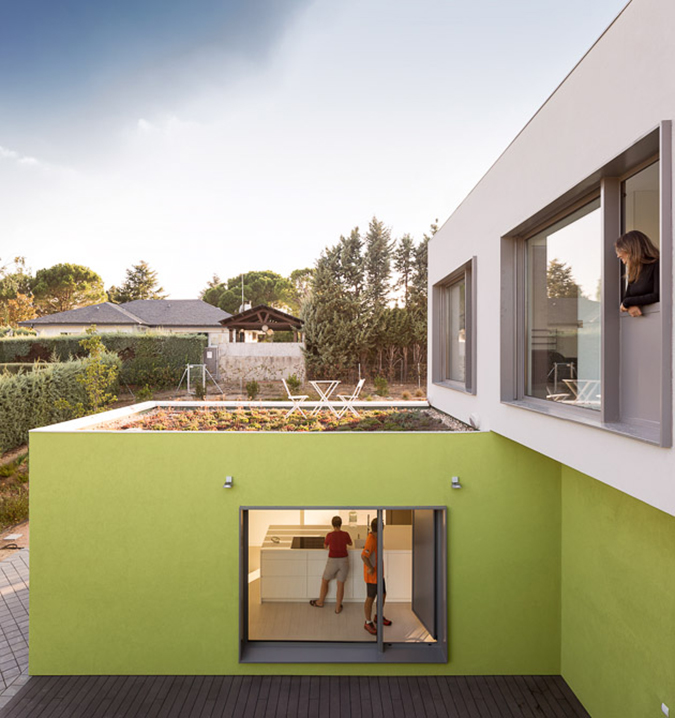 En el primer contacto con el solar descubrimos además que la topografía en pendiente permite disfrutar limpiamente de la sierra de Madrid, así que incorporamos este condicionante al proceso proyectual. De esta manera la pieza se encaja en la ladera y se configura en dos plantas, la baja de acceso relacionada con la parcela y la planta primera de dormitorios relacionada con el paisaje. El volumen se modela estratégicamente para conseguir orientación sur en todas las estancias y se proyectan grandes ventanales que potencian estas conexiones con el entorno.

In the first contact with the site we also discovered that the slope of the topography allows us to enjoy the Madrid mountain landscape, so we incorporate this condition to the design process. In this way the piece is embedded in the hillside and is configured on two floors, the low access related to the plot and the first floor of bedrooms related to the landscape. The volume is strategically modeled to achieve south orientation in all rooms and large windows are projected that enhance these connections with the surroundings.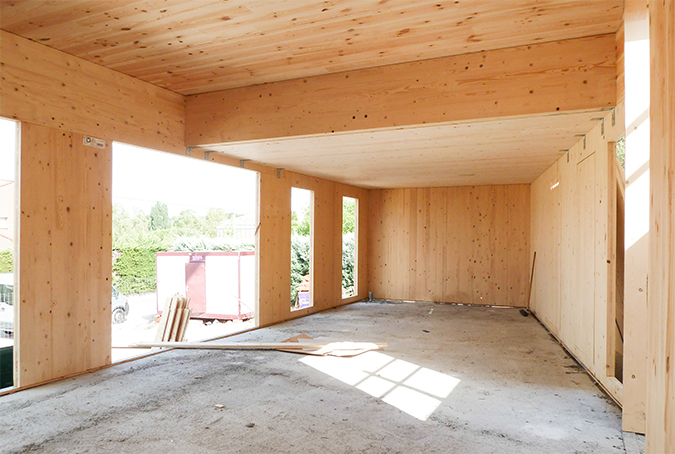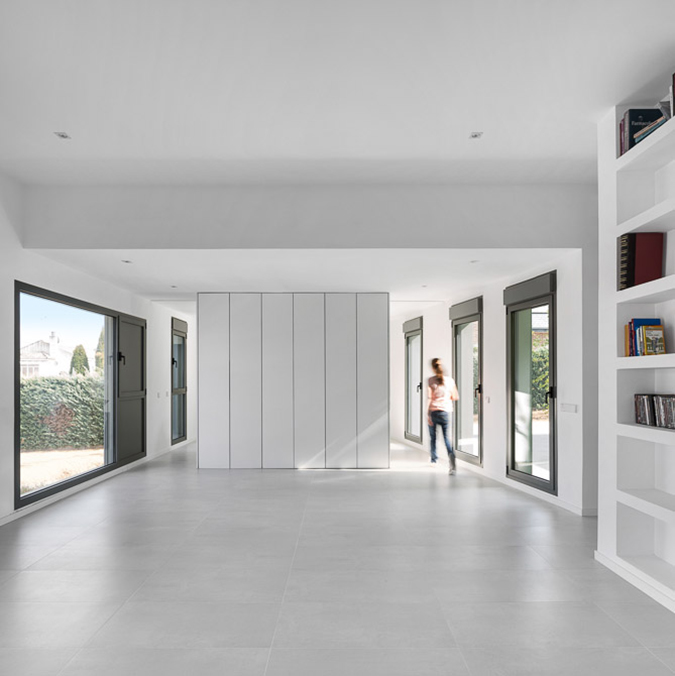 La planta baja se gesta pensando en la zona que se prevé será la más utilizada: la cocina, que se concibe como un gran espacio de encuentro, para compartir en familia y desde el que se sale al porche invadido por media piscina. Se incluye además un sistema de nado contracorriente para aprovecharla como parte del entrenamiento, además de la instalación de agua caliente desde los paneles solares para poder usarla todo el año.

The ground floor is conceived thinking on the area that is expected to be the most used: the kitchen, which is conceived as a large meeting space, to share with family and from where you can go outside to the porch taken up by a pool. This includes a Fastlane swimming machine, as a part of the training, and solar panels to enjoy hot water, allowing its use all year.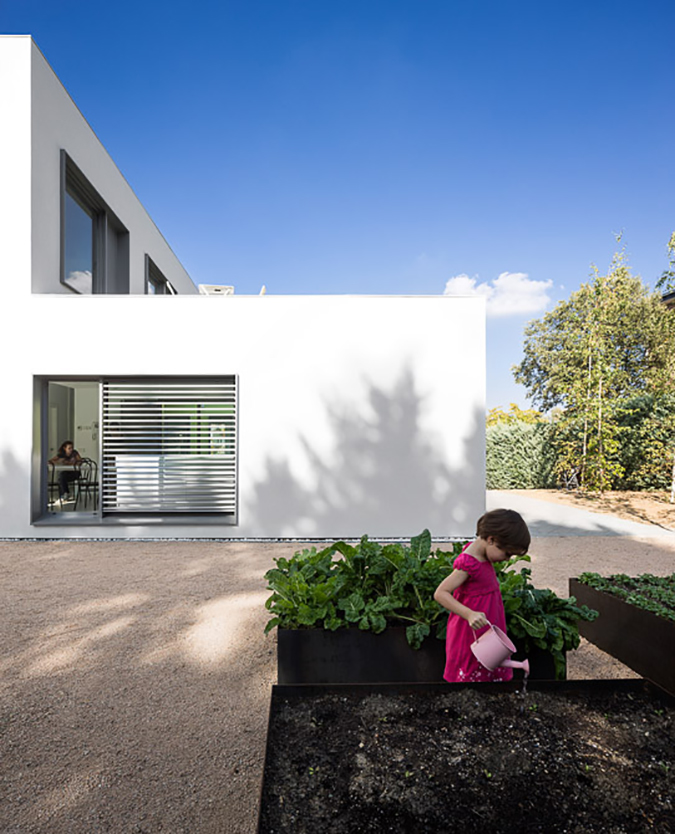 La vegetación también juega un papel importante en el proyecto. Dos cubiertas ecológicas vinculadas con sendos dormitorios que se presentan como alfombras verdes a los pies de la cama, un gran talud cubierto por especies aromáticas y culinarias como telón de fondo del jardín Sur o la plantación de árboles de gran porte para compensar las emisiones de CO2 generadas en el proceso constructivo.

Vegetation also plays an important role in the project. Two ecological decks linked to two bedrooms that appear as green carpets at the foot of the bed, a large slope covered by aromatic and culinary species as a backdrop to the South garden or the planting of large trees to offset CO2 emissions Generated in the construction process.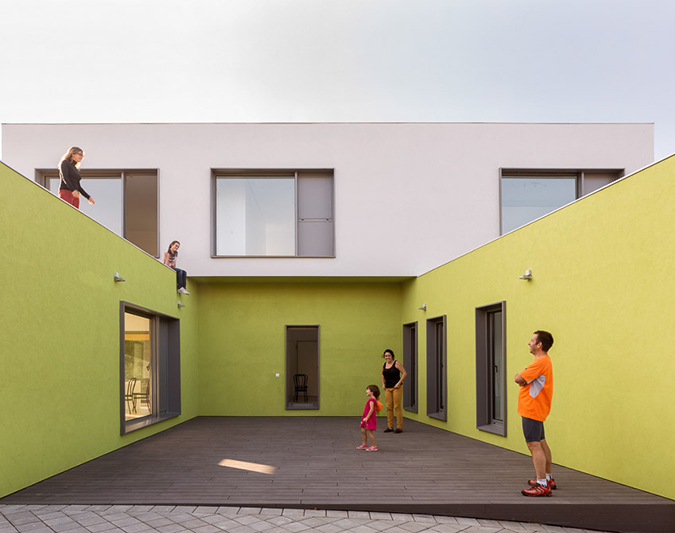 El color elegido para la mayor parte de la envolvente es el gris claro, con lo que se pretende evitar el recalentamiento por radiación solar y aportar un tono neutro y poco llamativo desde la calle. Esta decisión enfatiza los colores vivos de los patios: verde y amarillo, que sólo se descubren cuando ya se ha entrado en el recorrido de acceso a la vivienda. El contraste cromático potencia la importancia de estos espacios de transición entre vivienda y jardín, a la vez que los define como lugares más domésticos e independientes del resto de la fachada. Ambos patios están ubicados de tal manera que es imposible verlos a la vez salvo si se está en la cocina que, no por casualidad, es la estancia con más actividad de la vivienda.

The color chosen for most of the envelope is light gray, which is intended to avoid overheating by solar radiation and provide a neutral tone from the street. This decision emphasizes the bright colors of the patios: green and yellow, which are only discovered when you begin to walk through the house. Chromatic contrast enhances the importance of these transition spaces between housing and garden, while defining them as more domestic and independent places. Both patios are located in such a way that it is impossible to see them at the same time unless you are in the kitchen which, not by chance, is the place with more activity of the house.