INTRODUCCIÓN: En la mayoría de los pequeños pueblos en los países industrializados es extremadamente difícil encontrar artesanos que trabajen de un modo tradicional y sean capaces de desarrollar los métodos de trabajo como se han hecho durante años. De algún modo, esta manera de producir se ha perdido para siempre, La idea romántica de una construcción realmente tradicional es simplemente naïve. Lo que se construye finalmente es una copia barata de casas que normalmente no tienen su origen en el sitio donde se construyen, sino en algo así como la aldea ideal de Juana de Arco o El Señor de los Anillos. Todo lo que se salga de ese patrón se convierte en algo demasiado costoso económicamente o simplemente imposible de ejecutar.
In most developed countries´ small villages it is very difficult to find craftsmen who work in the traditional way. Somehow, a manner of making products can be given up for loss. The romantic idea of a really traditional construction method is just too naïve. What is usually built are just cheap copies of rural houses that usually does not have an origin in that specific place, but in some ideal villages from Lord of the Rings or Joan of Arc films. Everything out of this becomes either too expensive or simply impossible.

TRABAJO TERMINADO FINISHED WORK (FW)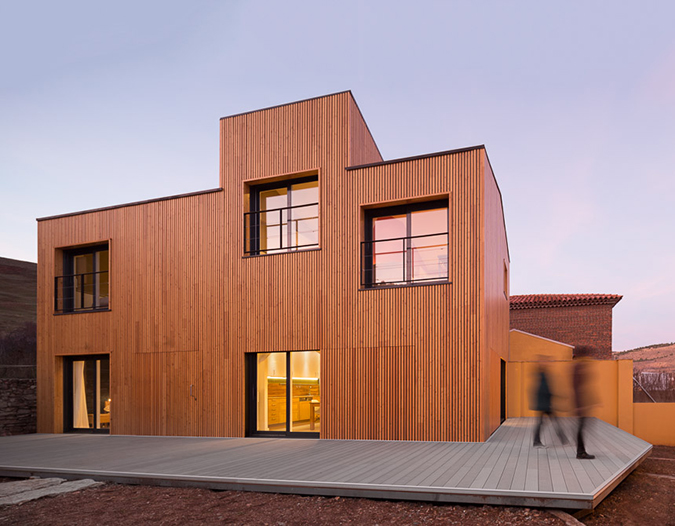 La zona donde se encuentra esta vivienda ha sido durante muchos años muy rica en mimbre y disfrutaba de una prospera industria de derivados del mimbre. Cuando se cruza la región, una enorme cantidad de estas plantas crecen salvajemente y nadie se preocupa de recolectarlas para su aprovechamiento. En la actualidad ya no se hacen sillas o cestas de mimbre natural. La idea de una casa de mimbre nos pareció un simpático homenaje a una industria que probablemente nunca volverá. Pero de nuevo era una idea demasiado romántica, abstracta e inviable económicamente. Por tanto, otro tipo de sistema constructivo debía introducirse para satisfacer los deseos de la propiedad y de los arquitectos.

The area where this house finds itself has been very rich on wicker and had a quite prosperous industry. Now, when driving through it, a huge amount of plants grow wildly and nobody cares about harvest it. No more wicker chairs or basket are made. The idea of a house made out of wicker could be a good homage to an already past industry that probably will never come back. Anyway again, it would be too romantic, rather abstract and unbelievable expensive. So, another building method should be introduced in order to achieve an interesting result both for clients and architects.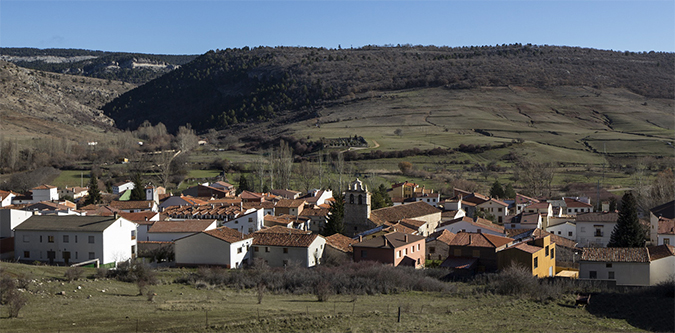 El encargo empezó con un mail y una breve visita a la oficina por parte de una persona que deseaba una vivienda para fines de semana y vacaciones en un remoto pueblo serrano. La razón para elegir un sistema modular prefabricado era que la vivienda que tenía en mente no era posible que la construyeran los constructores locales. Lo que quería era una vivienda diferente a lo que se ha construido en los últimos años en la zona y, sobre todo, un sistema constructivo fiable. Sin embargo, la vivienda debe ajustarse a la trama compacta tradicional del pequeño pueblo.

This commission started with one mail and a rather brief visit to the office of a person who wanted a second home in a remote village. The reason of choosing a prefab process was that the house he wanted could not be built by local traditional constructors. His desire was something different from the traditional houses that can be found in the area and, above all, a reliable process. Nevertheless, the house should of course fit in such a traditional compact urbanism of the small town.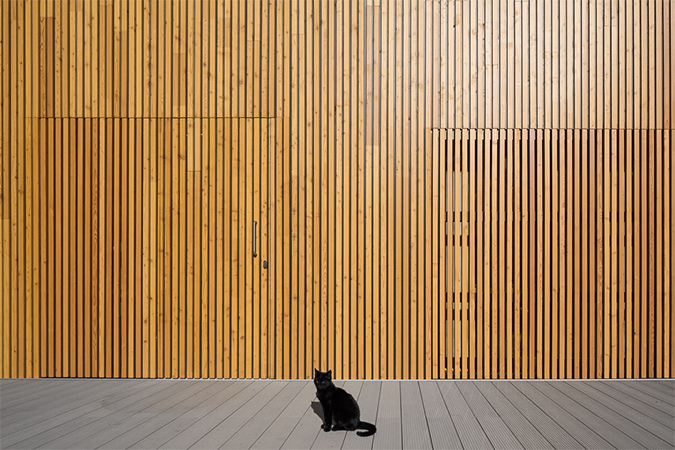 Los primeros esquemas ya contemplan un volumen compacto y sencillo, con una escala acorde con el entorno. También hay cierta acción contemporánea para ajustar la vivienda al uso de fines de semana y vacaciones que hará una familia de la ciudad. El lugar donde se asienta está muy bien orientado a sur y a este en la parte alta de la trama urbana, con agradables vistas por encima de los tejados y disfruta incluso de algo de espacio libre para una terraza que permita una relajada terraza exterior.

The first sketches already show a compact simple volume and a scale to fit the surroundings. And also there is a kind of contemporary action for a house which will be used just weekends and holidays by an urban family. The site is on an upper part of the village, very well oriented to the south and some views over the houses to the east. Big enough for the one hundred and forty four square meters to be build, and even some free space for a terrace and relaxed outdoor living.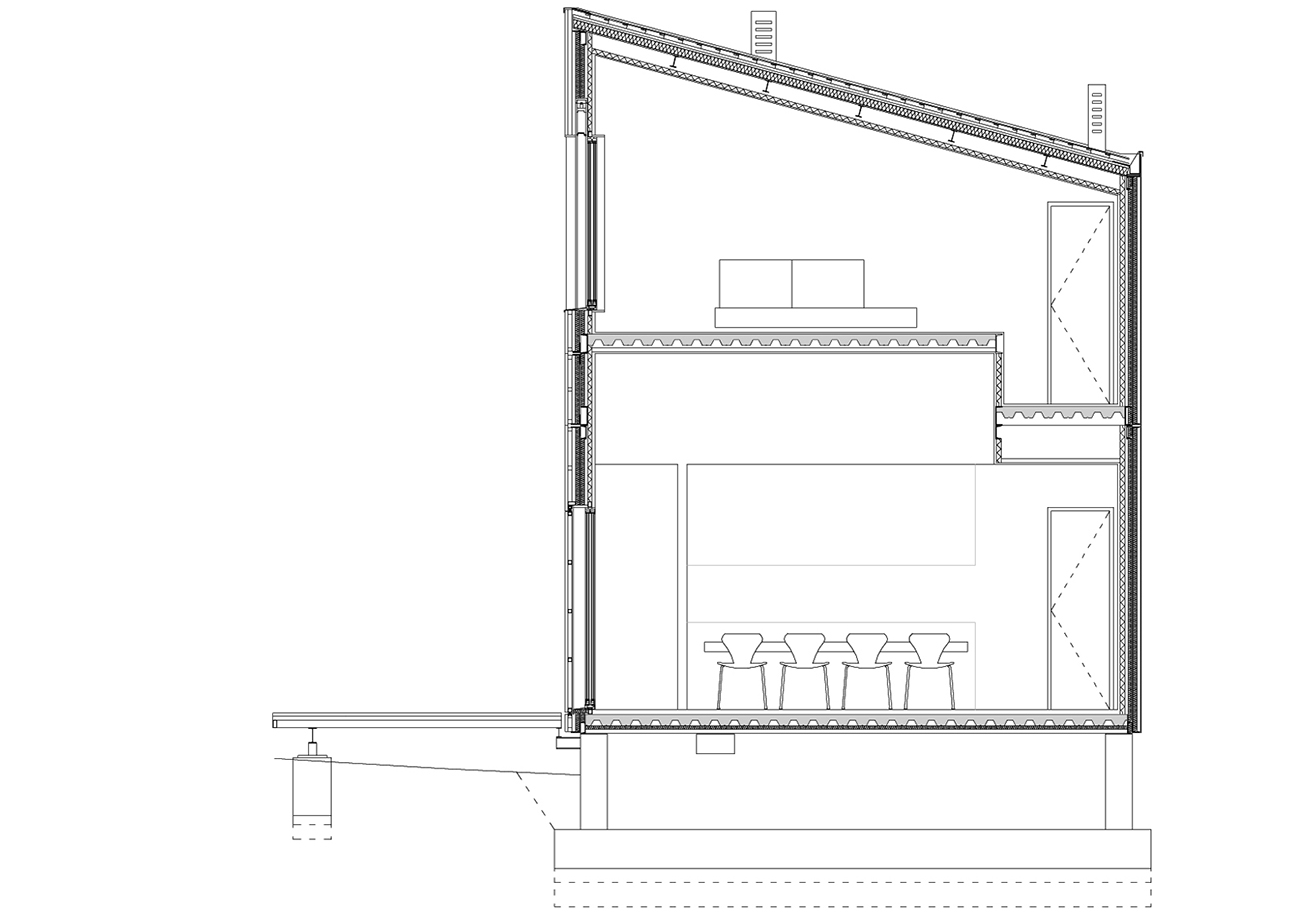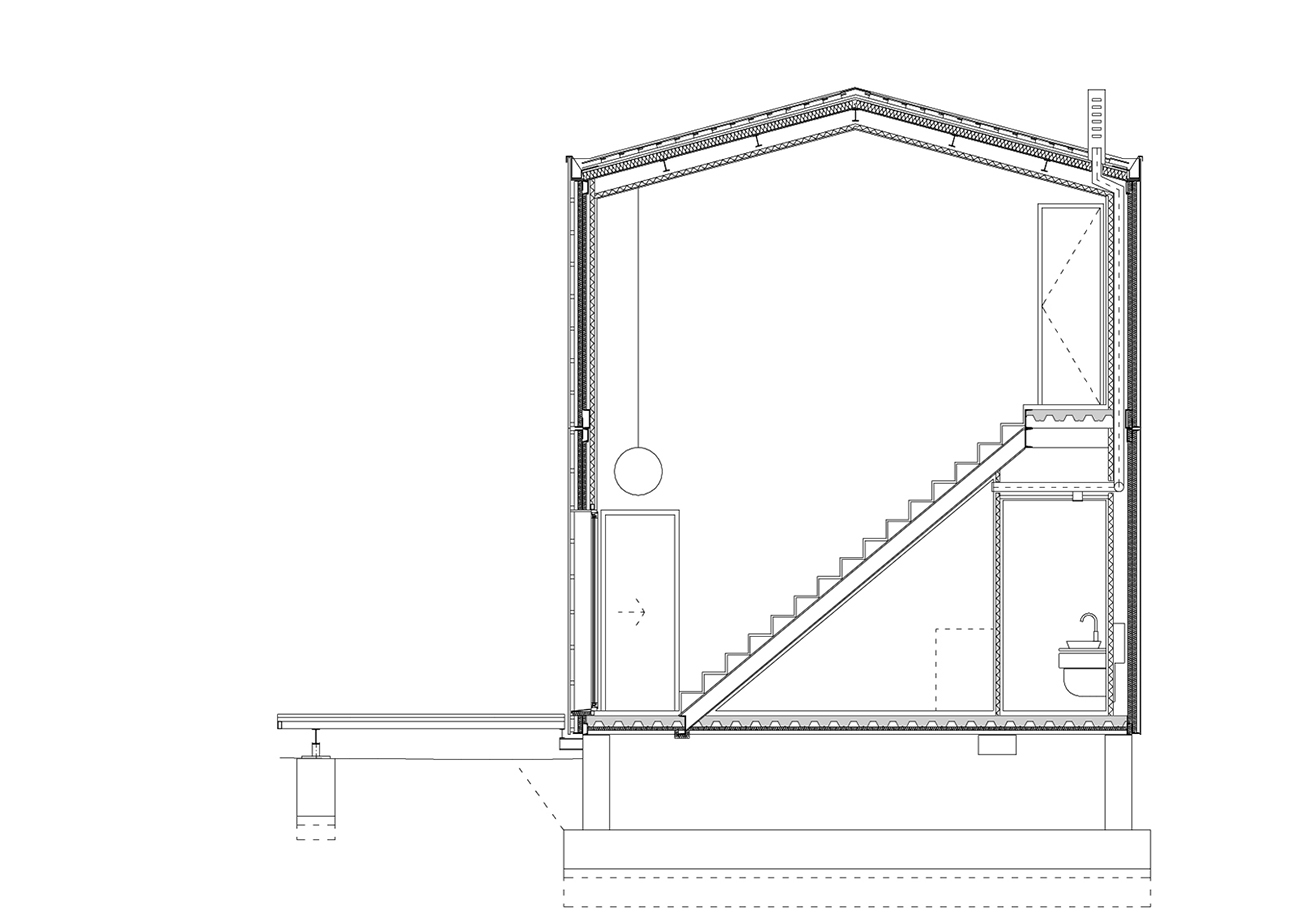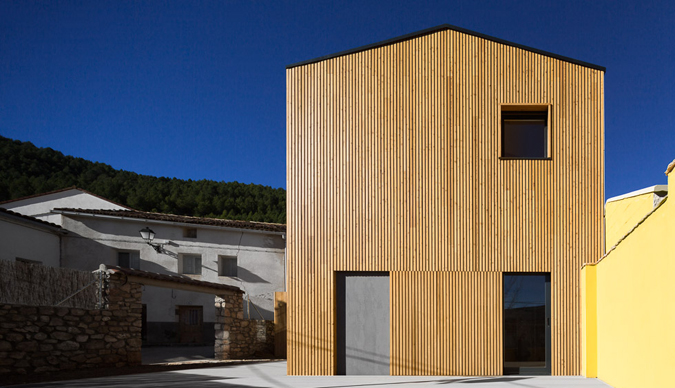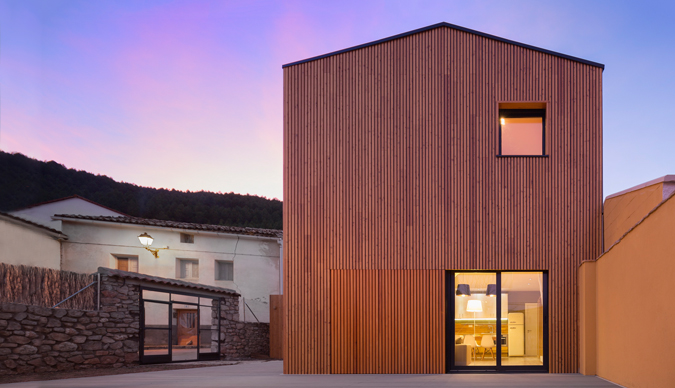 Para conseguir un espacio singular, un interior diferente y una imagen exterior distinta, solo se realiza un único movimiento. El salón comedor precisa de más metros cúbicos y por tanto crece sobre la mesa que será el centro de reunión de la vivienda. Por tanto, la parte superior también se modifica y uno de los espacios se convierte en un salón abierto para los jóvenes que ocuparán la primera planta. La imagen exterior se modifica y la fachada principal ofrece al volumen una vista singular, aunque a la vez más bien tranquila y sin pretender ser agresiva.

In order to achieve a singular space, a different interior use and a distinct image, only one single movement was made. The leaving needs more cubic meters and it grows up over dining table. So, the upper floor modifies also its volume and a room becomes a meeting point for the teenagers who will occupy the upstairs space. The outside image also gets modified and the main façade gives the volume a distinctive but quite quiet, non aggressive view.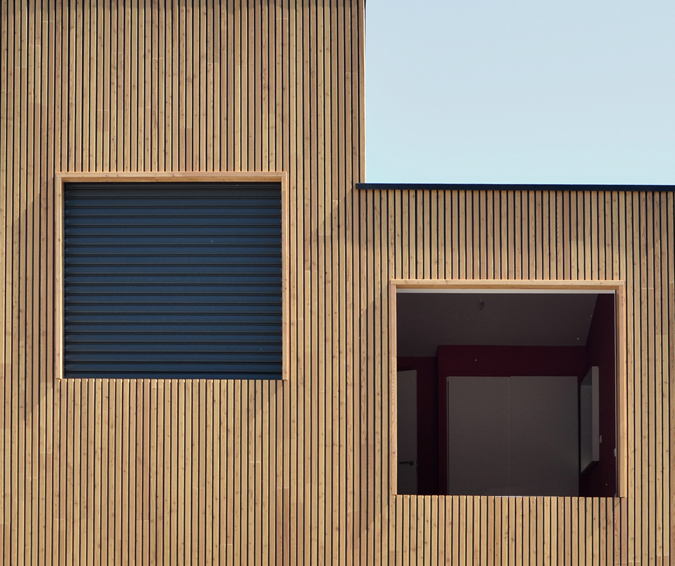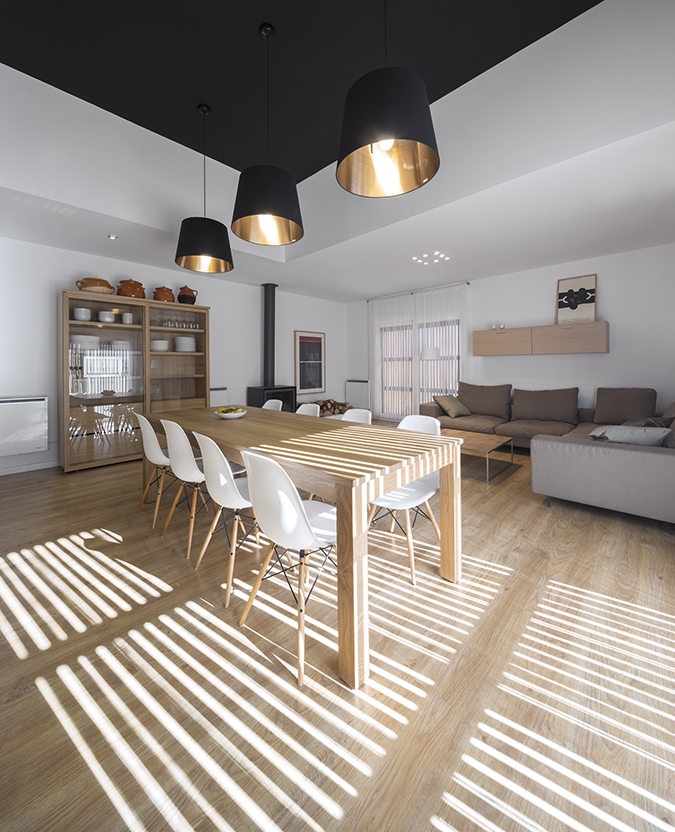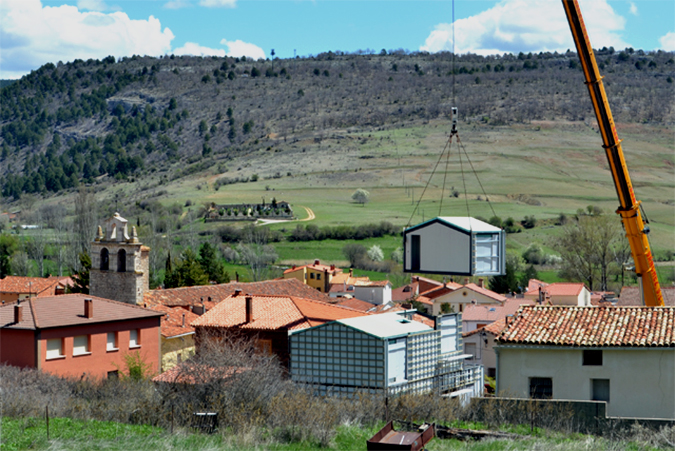 Únicamente se han empleado ocho módulos de dieciocho metros cuadrados (seis por tres) y una pequeña pieza para la parte alta. La distribución sigue un modesto diagrama donde cada módulo tiene su función. La planta baja contiene el dormitorio principal con baño, un módulo funcional de escalera, instalaciones y lavandería, y el espacio abierto dedicado a salón, comedor y cocina. En el piso superior se encuentran dos dormitorios en los extremos, de nuevo el espacio funcional de escalera más baño, y la estancia elevada que tiene un uso abierto y relativamente difuso e indefinido. La imagen de la casa se completa con grandes huecos cuadrados, todos orientados a sur y este. El esqueleto metálico se cubre con una fachada ventilada de alerce. Para reforzar el concepto abierto y vacacional de la vivienda, dos puertas correderas del mismo material se abren a la terraza exterior.

Just eight modules of eighteen square meters (six times three) and a small piece for the high part were needed. It follows a modest diagram and every module has its own function. The ground floor holds a master bedroom and a bathroom, the functional module of stairs, facilities and laundry, and a living+dining+kitchen room. Upstairs, are found two bedrooms at ends, again the functional module of stairs and bathroom, and the elevated room with no clearly-defined use. The image of the house is completed by large square holes, all facing south and east. The material used for cladding the structure is a larch rain screen façade. In order to reinforce the holiday open concept of the living, two sliding doors of the same material are built, as they will be always open to the outdoor terrace, made of wood polymer composites.